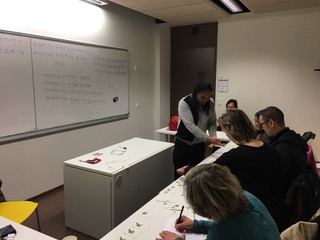 The Khata Karpo association offers to French speaking people oral and written Tibetan language lessons, for beginner or advanced levels, either online using Zoom application or in person, in the Inalco school site.
Tibetan singing lessons :
Following the beginner Tibetan lesson taking place in person on tuesday at 6 pm, traditionnal Tibetan songs are taught from 7pm to 7:45 pm.
The annual association membership subscription and a monthly 20 euros contribution are required for participation in a weekly class.
There will be no in person lessons taking place during INALCO school holidays.